Doosan Fuel Cell, Iksan Factory Acquires 'ISO 14001' and 'ISO 45001'
2022-12-15
Doosan Fuel Cell announced on November 15th that its Iksan factory in Jeollabuk-do has obtained ISO 45001 (Environmental Management System) and ISO 14001 (Safety and Health Management System) certifications at the same time.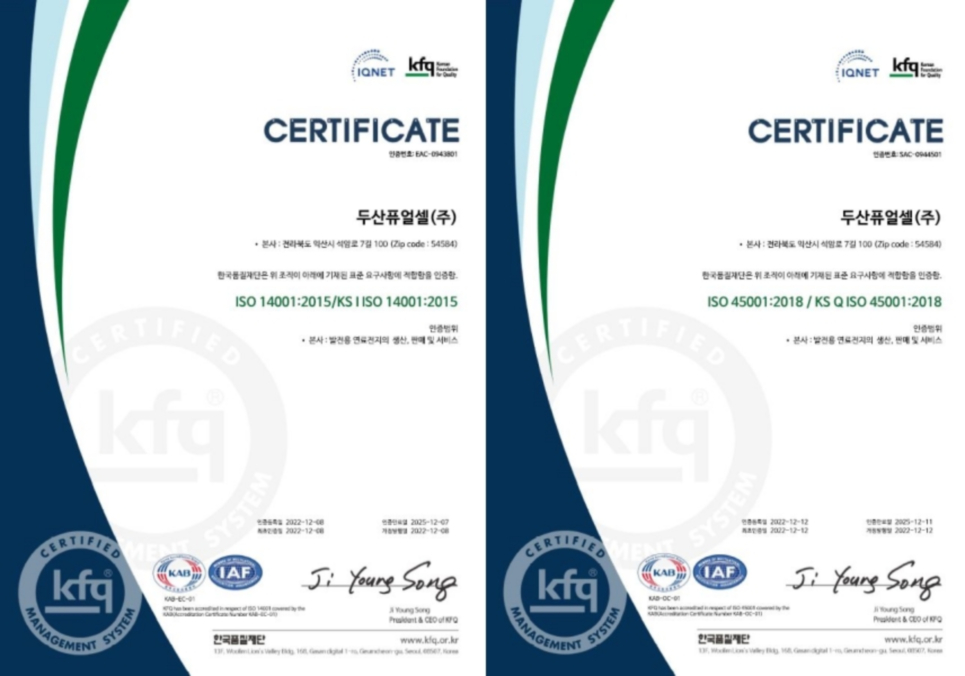 ISO 14001 is an international standard for environmental management systems by the International Organization for Standardization (ISO), which comprehensively assess and certifies a company's eco-friendly management strategy and organizational system. Requirements for ISO 14001 include workplace impact on environment and compliance with environmental laws and regulations.
ISO 45001 sets out the criteria for health and safety management system at work. This standard was agreed between ISO and the International Labor Organization and established in March 2018. The identification of occupational safety and health risks and the establishment of an occupational accident prevention system are assessed to get ISO45001. Introduction of an integrated structure of the ISO documentation system and involvement of workers in safety and health policies are required for the certification.
The Iksan factory, which obtained this certification, will undergo an annual system maintenance audit from ISO. The certification is valid for three years and can be renewed.
In particular, in order to obtain this certification, Doosan Fuel Cell strengthen its safety and health management manuals, regulations, and guidelines based on DSRS (Doosan EHS Rating System), an EHS evaluation tool developed by Doosan Group.
"Doosan Fuel Cell, as a leading eco-friendly hydrogen fuel cell company in Korea, has established an environmental management system in compliance with international standards and has been investing in safety and health at work," says an official from Doosan Fuel Cell. "Doosan Fuel Cell in planning to gain international certifications at our Saemangeum factory(SOFC), which is scheduled to be completed in 2024 for sustainable management."