Doosan Fuel Cell Advances into Overseas Markets to Expand Its Hydrogen Business
- Signed a Statement of Cooperation with the South Australian government to foster the hydrogen industry.
2023-02-09
Doosan Fuel Cell is planning to develop overseas markets to expand its hydrogen business.

Doosan Fuel Cell announced on January 9th that it signed a Statement of Cooperation with the South Australian government and HyAxiom, a subsidiary of Doosan Corporation, at the Four Seasons Hotel Seoul in Gwanghwamun to foster the hydrogen industry. The signing ceremony was attended by Hooseok Che, COO of Doosan Fuel Cell, and Sam Crafter, CEO of Office of Hydrogen Power South Australia, on be half of the Government of south Australia.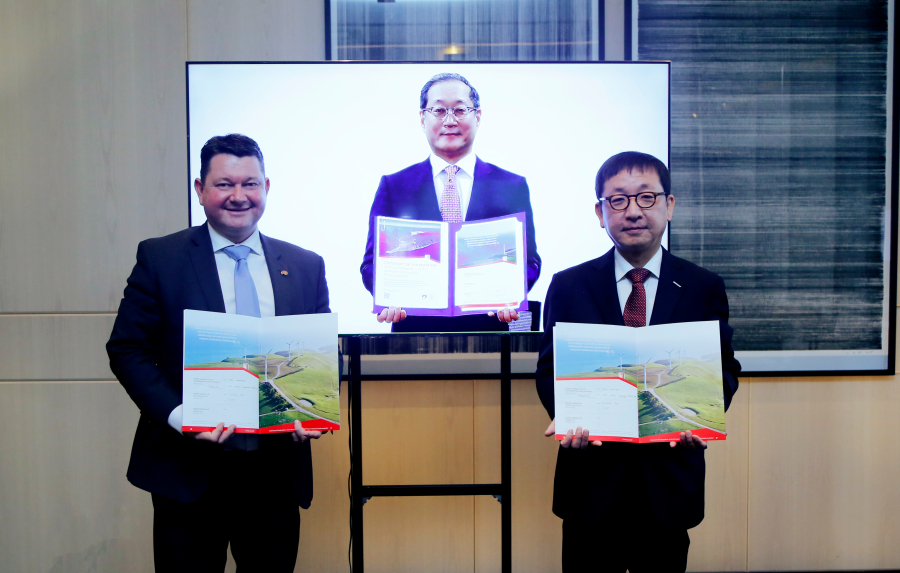 Under the agreement, Doosan Fuel Cell and the South Australia agreed to ▲exchange equipment and expertise for production of eco-friendly hydrogen and derivatives, to ▲establish strategies and partnerships to secure global competitiveness in hydrogen exports, to ▲secure research partnerships and projects to accelerate future decarbonization, and to ▲develop domestic markets by building infrastructure of green hydrogen supply and utilization.
In order to establish itself as a global eco-friendly leader, the South Australian government recently announced ambitious plan to increase the proportion of renewable energy, which is about 68% of total electricity production, to 100% by 2030 and is actively pushing for legislation to expand required infrastructure.
As part of that, the South Australian government has set up a plan and schedule to build a combined plant where 250MW water electrolyzers, 200MW hydrogen power plants, and hydrogen storage facilities are co-located.
"Australia's resource endowment, such as solar, wind, and hydro power, not only allows to produce green hydrogen easily from the sources above, but also has high price competitiveness," says an official from Doosan Fuel Cell. "Making the best use of the cooperation, Doosan Fuel Cell will develop hydrogen-related business opportunities in Australia."
In September 2021, Doosan Fuel Cell supplied 1.76MW hydrogen fuel cells to Nanhai, Foshan, China, which is the first hydrogen fuel cell export as a Korean company. In April of the following year, it signed a 4.84MW supply contract for hydrogen fuel cells in Xining, Qinghai Province, China, and in November, it signed a large-scale contract to supply a total of 105MW of hydrogen fuel cells to China.