Delivering for Good: Doosan's Helping Hand for the Underprivileged in the Local Community
- Iksan city 'Dairoum Free Meal Food Truck' project cost support and participation in volunteer activities
2023-02-21
Doosan Fuel Cell embarks on social contribution activities for the local community in Iksan, Jeollabuk-do.
Doosan Fuel Cell announced on February 21st that it had signed an agreement with Iksan city to support the 'Dailoum Free Meal Food Truck' project and held a signing ceremony at the City Hall in Iksan, Jeollabuk-do. The event was attended by Iksan Mayor Hunyul Jeong, Doosan Fuel Cell Vice President Hyungwon Moon, and labor union leader Juseong Jang.
Under the agreement, Doosan Fuel Cell has decided to donate 6 million won annually for the operation of the truck, and all staff of Doosan will serve meals in the truck every third Wednesday starting in March this year.
The truck is a free meal project that the city has been carrying out since last year to distribute a warm meal every Wednesday to those who have difficulty purchasing enough to avoid hunger.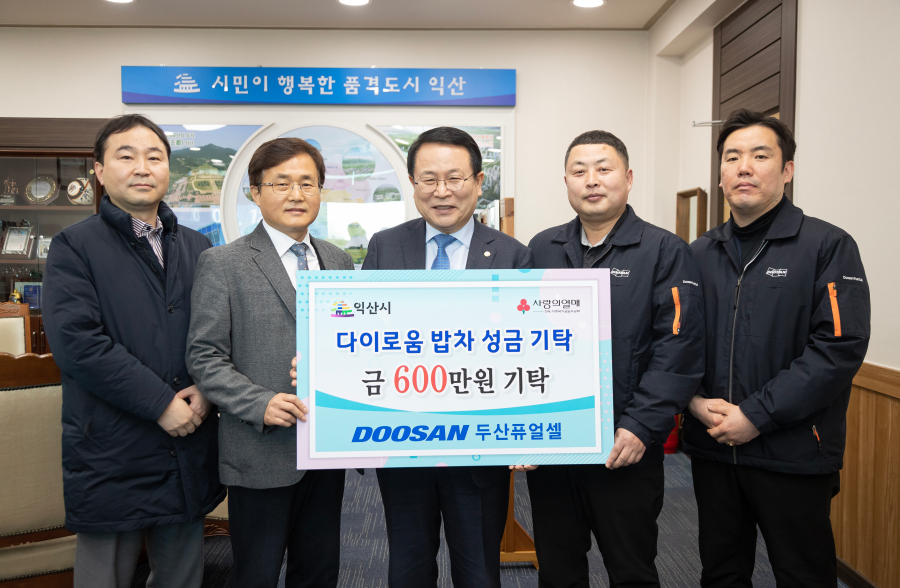 "Companies must facilitate communication with the local community through social contribution activities and faithfully fulfill their social responsibilities," says an official from Doosan Fuel Cell ESG Team. "We will continue to actively discover and implement ways to contribute to local communities."
Since last year, Doosan Fuel Cell has been carrying out various corporate giving programs such as ▲donations and planting activities to support the creation of forests in downtown Seoul ▲employment of players with disabilities in Jeonbuk and support for operating expenses and ▲support for the 'Energy Efficiency Improvement Project' targeting children's welfare facilities in local communities.