Doosan Fuel Cell Carries Out 'Green Working Challenge', an eco-friendly social contribution campaign
- 420 Doosan Fuel Cell employees, employers, including their families, and employees of suppliers participated in the campaign. A total of 713 kg of carbon emissions were reduced
- Donated 10 million won to 'Coophangang', a cooperative, for ecosystem restoration and forest creation

2023-04-20
Doosan Fuel Cell announced on April 20th that it carried out 'Green Working Challenge', an eco-friendly social contribution campaign, this year, following last year, and donated 10 million won to 'Coophangang', a cooperative. This fund was used to restore ecosystem near the Han River and create forests.
The 'Green Walking Challenge' was designed to cut carbon emissions in daily life by walking rather than using public transportation or vehicles with an aim to improve health and protect the environment.
420 Doosan Fuel Cell employees, their families, and employees of partner companies participated in the campaign for about two weeks from March 30th to April 13th, recording 32.41 million steps, exceeding the target of 25 million steps.
This campaign allowed Doosan Fuel Cell to reduce a total of 713 kg carbon emissions. This is worth of the amount of carbon emitted by 108 30-year-old pine trees for one year.
The day after the Challenge ended, 30 Doosan Fuel Cell employees planted about 1,000 shrubs, including winnow willows, pussy willows, and wild roses, at Salgoti Park in Seongdong-gu, Seoul, using 10 million won donated to the Coophangang. In addition to carbon reduction, these shrubs are expected to be habitats for small birds and mammals, contributing to the preservation of the ecological environment and the expansion of biodiversity.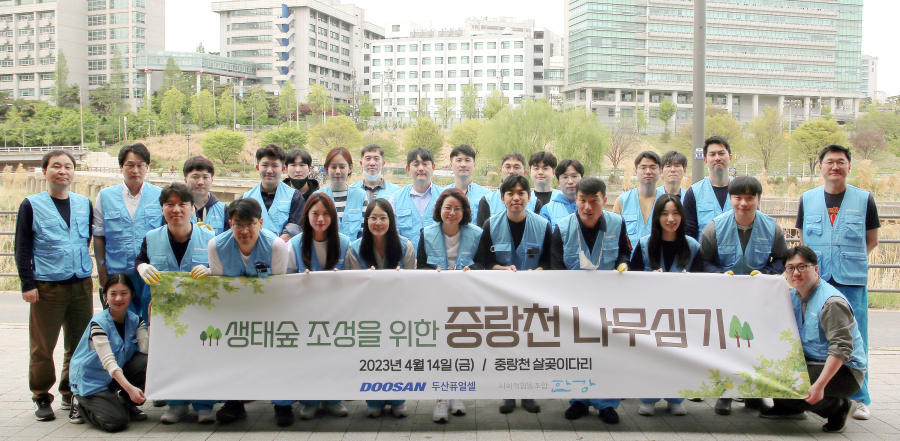 An official from Doosan Fuel Cell said, "We will come up with a plan for local residents to participate in the Green Working Challenge campaign together," says an official from Doosan Fuel Cell. "We will develop an eco-friendly social contribution activities with the local community to promote awareness of the need for carbon reduction."
Meanwhile, in March, Doosan Fuel Cell signed a memorandum of understanding (MoU) with the Doophangang for 'ESG activities to improve the ecological environment of the river'.