Doosan Fuel Cell introduces future hydrogen production and applications at 'H2 MEET'
- Unveiled hydrogen fuel cell and hydrogen production facilities for PEMEC, PAFC and SOFC
2023-09-13
Doosan Fuel Cell announced on September 13th that it will participate in the H2 MEET, the largest hydrogen industry exhibition in Korea, to be held at KINTEX in Goyang, Gyeonggi Province from September 13th to September 15th with an aim to introduce next-generation hydrogen charging and applications solutions.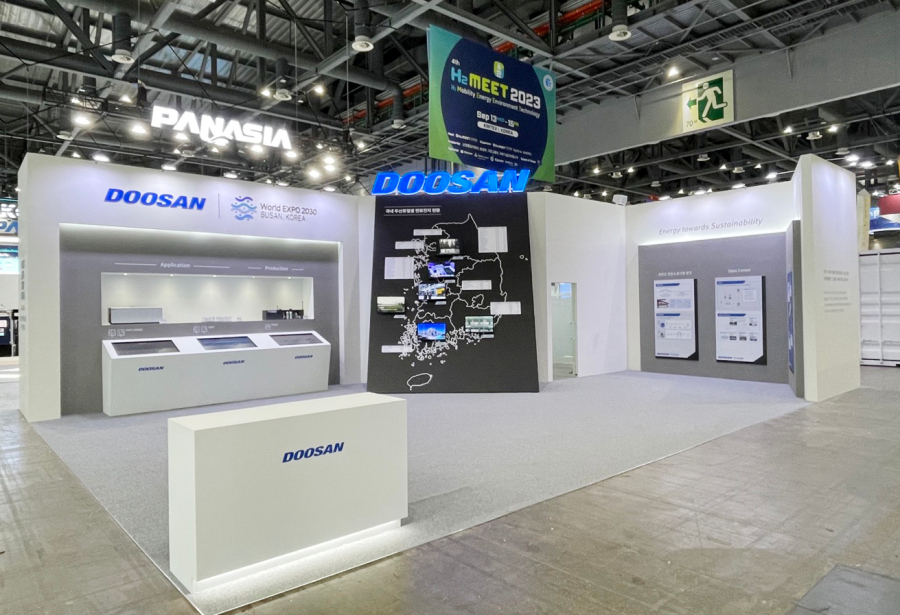 "H2 MEET (Mobility+Energy+Environment+Technology)" is an arena where related companies from hydrogen production, storage, transportation, and utilization across H2 value chain participate to introduce technologies and products and communicate. This year, 303 companies, including Hyundai Motor, POSCO and Hanwha, will join the event.
Doosan Fuel Cell introduces PAFC, SOFC, and PEM(Proton Exchange Membrane) electrolysis products.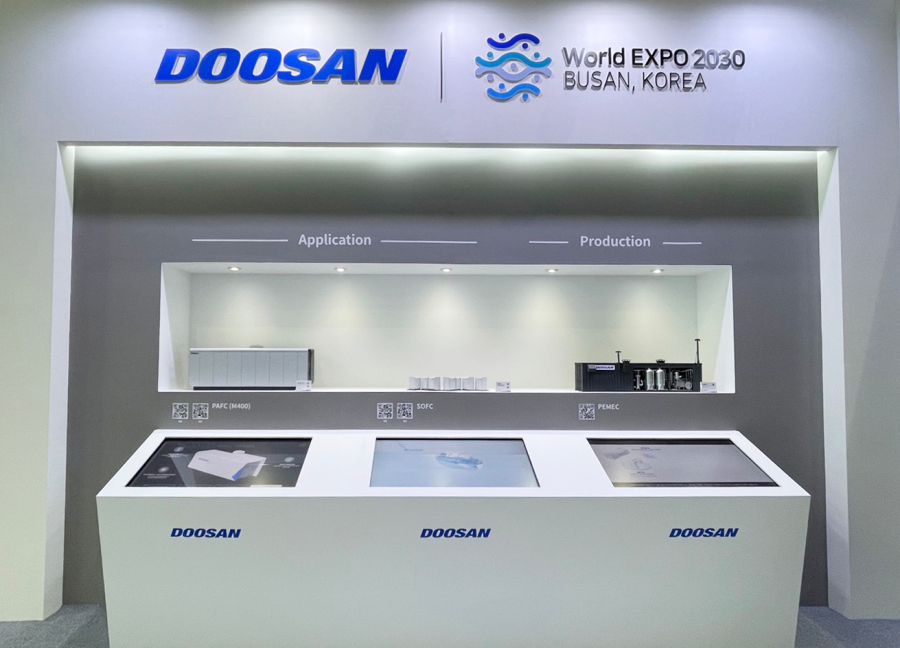 Doosan Fuel Cell's PAFC can produce electricity and heat at the same time, with a combined efficiency of about 90%. PAFC's high localization(>98%) contributes to the establishment of a domestic hydrogen ecosystem. PAFC has a load following advantage that can immediately respond to demand and supply fluctuation. Doosan also released the world's first direct hydrogen injection model. Through PAFC, Doosan Fuel Cell has achieved a total supply volume more than 560 MW, including facilities currently under construction.
In general, SOFC, which operates at a high temperature of 800°C or above, has higher efficiency than other fuel cell types. Doosan Fuel Cell is developing products with high power efficiency and longer life while operating at 620°C, about 200°C lower than before. In this regard, technology development will be completed by 2023, and a 50MW SOFC plant construction will be completed at Gunsan Saemangeum Industrial Complex to establish a mass production system.
The 1MW PEM water electrolysis system decomposes water with electrical energy to generate hydrogen and oxygen, and it can produce about 430kg of hydrogen per day, resulting in charging about 20 hydrogen buses. In particular, Doosan developed the electrolysis system for the first time in Korea, and it is set to demonstrate in Korea in the second half of this year.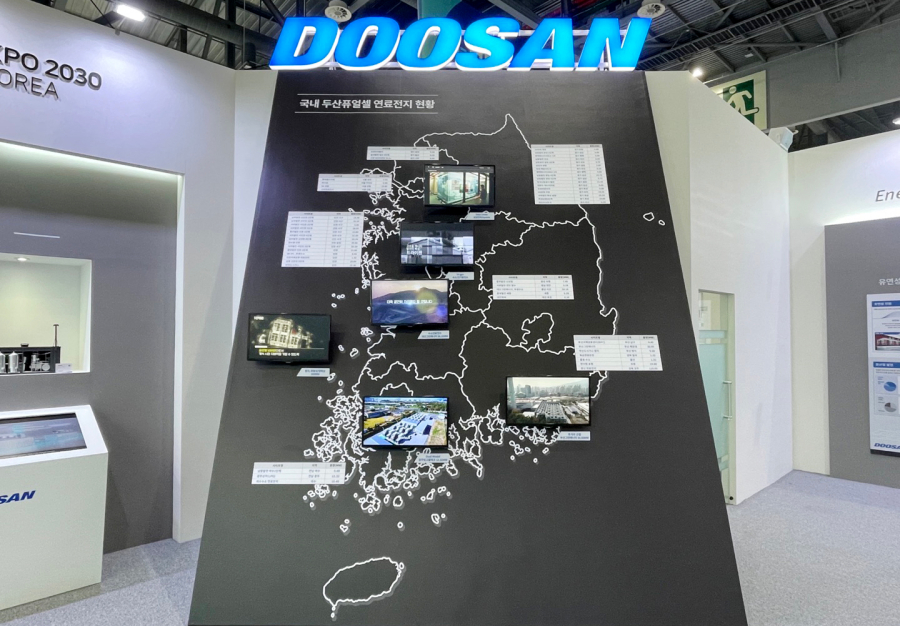 In addition, Doosan Fuel Cell plans to place a hydrogen wall containing general information on each product model and hydrogen fuel cells in the booth and play videos related to Tri-gen which generates hydrogen, electricity, and heat at the same time, and maritime SOFC to enhance the understanding of visitors.
"Our focus for the exhibition is to show a wide range of our performances applied to the actual site and new businesses preparing for commercialization," an official from Doosan Fuel Cell says. "Doosan Fuel Cell will remain committed to reaching our management goals this year as we are securing stable domestic demand with the start of hydrogen power generation bidding market this year and are actively exploring overseas markets."
Meanwhile, Doosan Fuel Cell has advanced to the finals by submitting 5CSA (cell stack assembly) in the hydrogen utilization category of the 'H2 Innovation Awards', a new product and technology presentation and award in the hydrogen field. This year, 11 companies from three categories advanced to the finals, and winners will be selected after a presentation and final review at the event site on September 13th.