Doosan Fuel Cell and Iksan City perform social contribution activities to "cultivate ecological wetland park."
- Planting about 3,000 trees, including zelkova, azalea, and golden spindle trees
- Green Walking Challenge Campaign to reduce Total 475kg carbon emissions

2023-10-30
On October 26th, Doosan Fuel Cell employees and employers carried out a social contribution activity at Yucheon Ecological Wetland Park near Doosan Fuel Cell headquarters in Iksan, North Jeolla Province.
Doosan Fuel Cell employees, employers and local citizens who participated in the event planted about 3,000 trees, including zelkova azalea, and golden spindle trees with KRW 25 million funded by Doosan Fuel Cell employees the Green City Iksan. In addition to cutting carbon emissions in the long run, the trees are expected to become wildlife habitats and provide a pleasant environment for local citizens.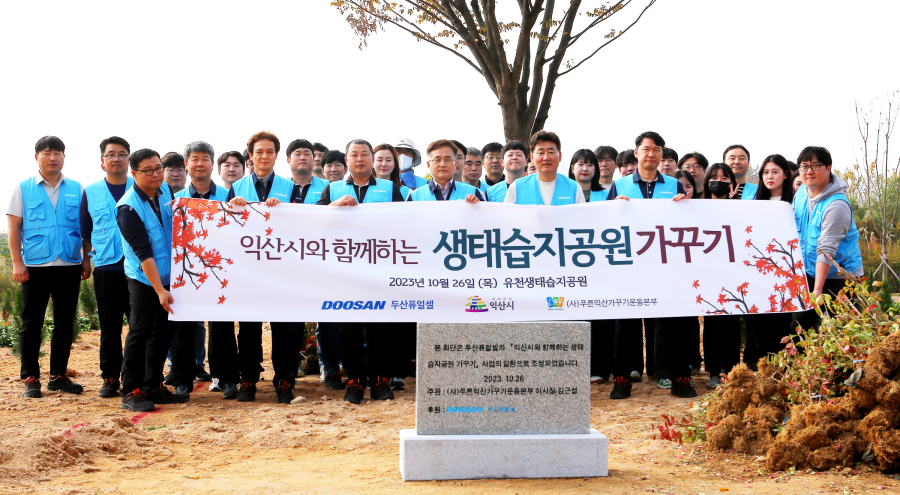 Doosan Fuel Cell held an eco-friendly campaign called "Green Walking Challenge" for 15 days between 13th and 27th to raise funds. For cutting emissions the Challenge encourages to walk short distances instead of taking public transportation or driving cars, protecting environment as well as improving environment.
353 participants, including employees and employers of Doosan Fuel Cell, family and partner companies, recorded a total of 35.69 million steps, surpassing the target step of 30 million steps early. Doosan Fuel Cell contributed to reducing carbon emissions by a total of 475kg during the campaign, which is equivalent to the emissions that 72 30-year-old pine trees absorb for a year.
"The Green Walking Challenge, which is held twice a year, adds value since the cumulative number of steps is on the rise over time, and planting activities have expanded from the metropolitan area to areas near local businesses," an official from Doosan Fuel Cell says. "Doosan Fuel Cell will keep carrying out various social contribution activities with an aim of carbon reduction, environment preservation, biodiversity, and community involvement and partnership."