Seung-joon Lee, Vice president of Doosan Fuel Cell, Wins the 'Hydrogen Day' Minister of Industry Award
-He was recognized for his contribution to revitalizing the hydrogen economy by expanding hydrogen fuel cell supply
2023-11-06
Seung-joon Lee, vice president of Doosan Fuel Cell, won the Minister of Trade, Industry and Energy Award for his commitment to revitalizing the hydrogen economy at the "2nd Hydrogen Day" ceremony held at the 63 Building Convention Center in Seoul on November 2nd.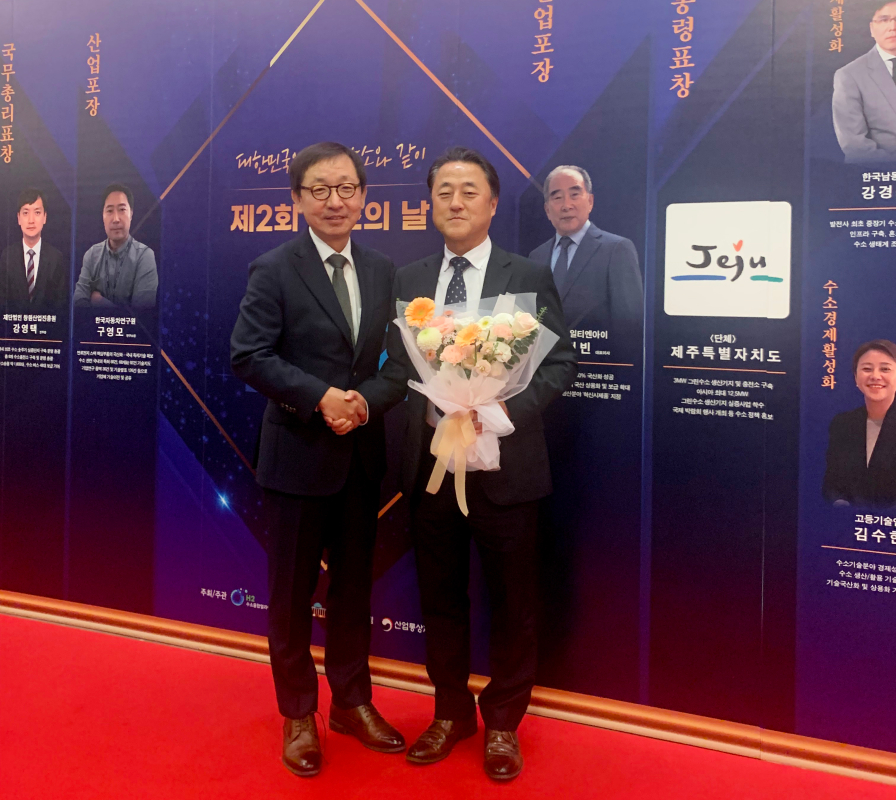 The hydrogen day ceremony is an event hosted by the Ministry of Trade, Industry and Energy and the Hydrogen Convergence Alliance. It was designed to reward and encourage people who have devoted themselves to revitalizing the hydrogen economy. Last year, the government marked Nov. 2 as Hydrogen Day to raise social awareness on the value of the hydrogen economy.
Seung-joon Lee served as the head of the domestic sales division and the head of the customer service division at Doosan Fuel Cell. He has committed to ▲supply of hydrogen fuel cell power generation plants to boost the hydrogen economy (accumulated 588MW as of May 2023), ▲establishment of an industrial ecosystem through job addition, ▲enhancement of commercial competitiveness through transfer of operation, maintenance technology and development of experts, and ▲localization of hydrogen fuel cells and technological innovation.
In particular, it has established cooperation with related organizations to develop various projects utilizing electricity and heat from hydrogen fuel cells, to foster new businesses, and has made enormous efforts to secure technological competitiveness.
"I couldn't win the award without the tremendous support of management and the dedication of colleagues," he says. "I will continue my commitment to the domestic hydrogen ecosystem and Doosan Fuel Cell business growth."