Doosan Fuel Cell Unveils its Expansion Plan into the Land-based Hydrogen Mobility Sector
- Doosan Fuel Cell announced its strategic partnership with HyAxiom and Ballard Power Systems for development of PEM (proton exchange membrane) hydrogen fuel cell mobility applications initially focused in South Korea
- The partnership plans to collaborate on a turn-key zero emission hydrogen solution for mobility including supply of fuel cell electric buses (FCEBs) and refueling hydrogen infrastructure.
2022-04-28
Building on its current hydrogen fuel cell solutions for stationary power and marine, Doosan Fuel Cell is expanding its fuel cell offerings into new land-based mobility applications through the use of PEM(proton exchange membrane) technology.
Doosan Fuel Cell announced it has signed a Memorandum of understanding ("MOU") with Ballard Power Systems ("Ballard") and Doosan Corp.'s fully owned North American subsidiary, HyAxiom, to develop hydrogen fuel cell powered vehicles. Initial efforts will focus on FCEBs for the South Korean market and will consider further collaboration on other mobility markets. The MOU was signed on April 27th, 2022 at HyAxiom headquarters in the Connecticut, U.S.
Ballard is a Canadian company with industry leading PEM fuel cell technology. Doosan Fuel Cell and HyAxiom's hydrogen fuel cell vehicle offerings will integrate Ballard's core PEM technology in its powertrain. This agreement brings together global leading companies to collaborate on a turn-key solution for mobility customers including the development, manufacturing and sale of PEM hydrogen fuel cells vehicles.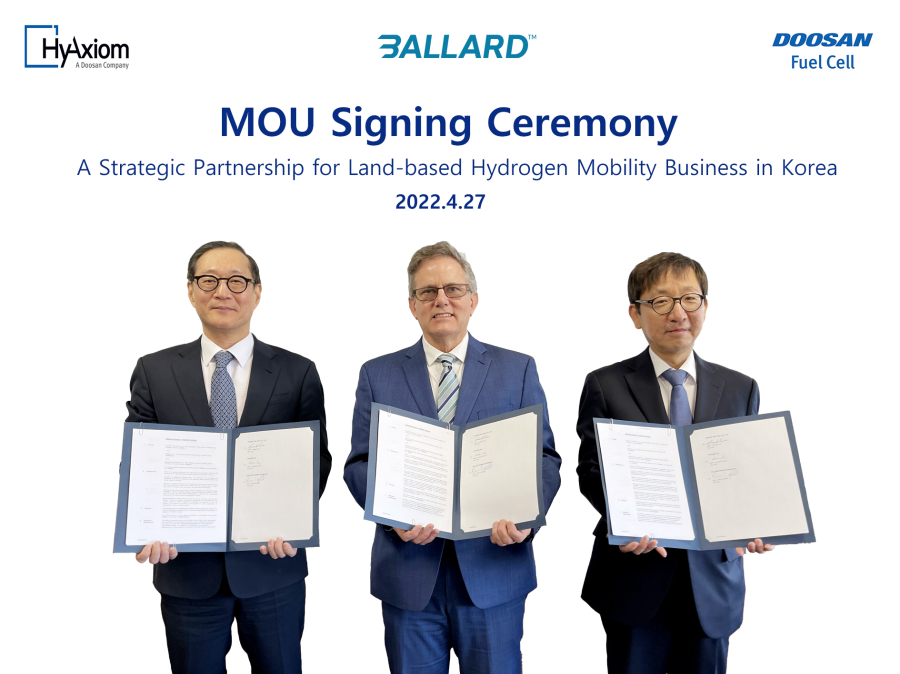 Doosan Fuel Cell and HyAxiom's hydrogen bus business will launch in 2023 with initial market focus in South Korea. FCEBs developed by HyAxiom are anticipated to be released in 2024.
"This agreement adds great value, showing industry leading companies' commitment to advancing into the global hydrogen fuel cell mobility market together, not to mention Korean market," said Jeff Hyungrak Chung, CEO of
Doosan Fuel Cell. "Well equipped with maritime SOFC (Solid Oxide Fuel Cell), which is under development, we are promoting hydrogen PEM fuel cell technology for mobility applications as a new growth engine for Doosan."
According to Korean government's 2019 hydrogen economy roadmap, local hydrogen mobility business is composed of largely two sectors, hydrogen vehicles and hydrogen charging stations. The roadmap draws a picture of supplying 1,200 hydrogen charging spots, 40,000 hydrogen busses, and 30,000 hydrogen trucks by 2040.