Hyungwon Moon, Vice President of Doosan Fuel Cell, Wins Silver Tower Order of Industrial Service Merit at Korea Electrical Safety Awards
- Recognized for PAFC production ramp up at factory and renewable energy promotion
2022-09-02
Hyungwon Moon, Vice President of Operation Division of Doosan Fuel Cell, was honored with the Silver Tower Order of Industrial Service Merit, the highest award, in recognition of his commitment to the promotion of
renewable energy at the 25th Korea Electrical Safety Awards held at Fairmont Ambassador Seoul Hotel in Yeouido on the 2ndof September.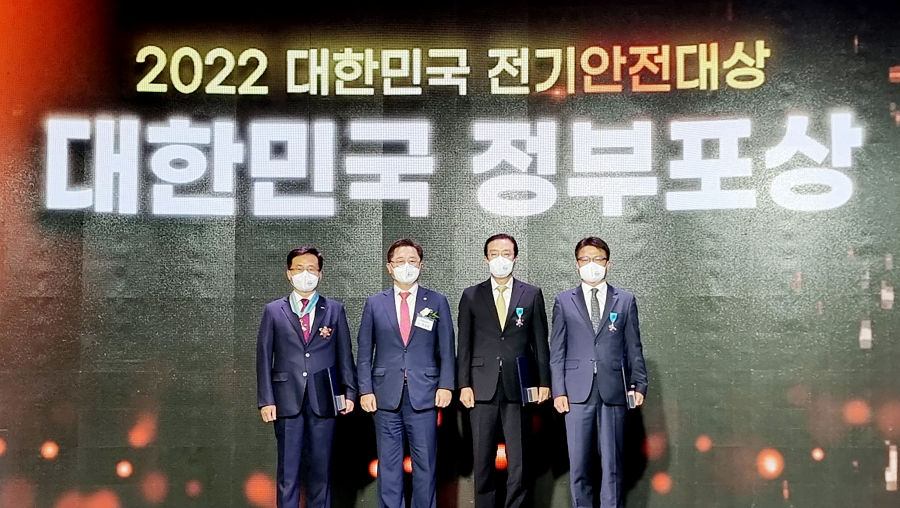 This Award is hosted by the Ministry of Trade, Industry and Energy and organized by the Korea Electrical Safety Corporation with the aim of raising public awareness of electrical safety, rewarding those of merit for their electrical disaster prevention actions, recognizing their services and raising the morale of workers.
Since joining the company in 1989, Hyungwon Moon has served for Doosan Group. He has committed to manufacturing competitive edge and quality, armed with his strong sense of responsibility and great passion.
In particular, with the launch of Doosan Fuel Cell in 2019, he has served as the head of operation, expanding phosphoric acid fuel cell (PAFC) production capacity(approx. 200 in 2020→ approx. 300 in 2021),
improving labor-management relations and corporate culture, introducing MES* for efficient process control, and taking the initiative in supporting local communities.
*Manufacturing execution systems (MES) are manufacturing management systems to track and document production plant, progress, transformation of raw materials and productivity in real time.
In 2021, His involvement in Doosan Iksan plant expansion investment contributed to local economy and job creation. When the plant expansion is completed, PAFC production capacity will reach up to about 620
units per year, adding 340 direct and indirect jobs with an approximate KRW 231 billion production inducement and KRW 72.6 billion value-added inducement.
"If it hadn't been for my colleagues and management who "If have worked with pride as a member of Doosan Fuel Cell, a leading company in Korean hydrogen fuel cell market, I wouldn't have been selected to receive the Silver Tower Order of Industrial Service Merit," says Moon. "We will continue to pay close attention to developing products and technologies that are ever better."