Doosan Fuel Cell Develops and Demonstrates Maritime Fuel Cells
- Doosan Fuel Cell, Shell, Korea Shipbuilding & Offshore Engineering, Hyaxiom and DNV formed a fuel cell demonstration consortium for marine applications
- Marine SOFC system will be developed and delivered by 2024 and demonstrated for one year from 2025

2022-10-11
Doosan Fuel Cell rolls its sleeves on development and demonstration of fuel cells for marine applications.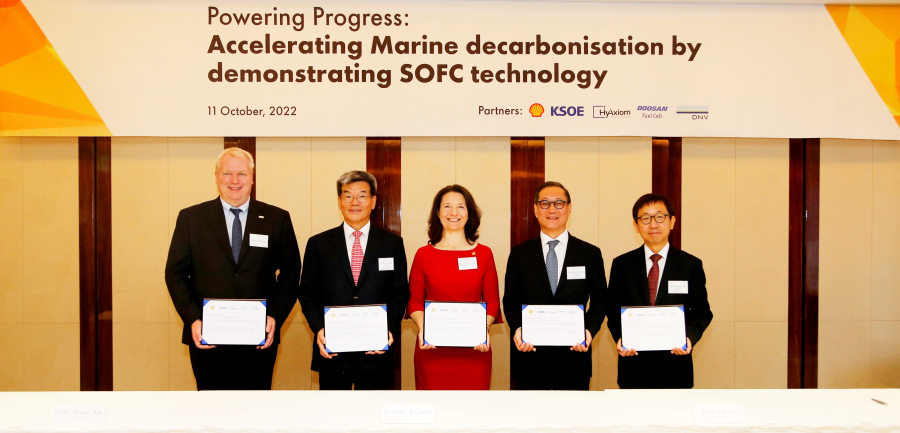 Doosan Fuel Cell announced on October 11, it had signed an agreement for the 'Consortium for Demonstration of Marine Fuel Cells' and held a signing ceremony at the Westin Chosun Hotel in Seoul with Shell, a global energy and petrochemical leader, Korea Shipbuilding & Offshore Engineering("KSOE"), an intermediate holding shipbuilding company for Hyundai Heavy Industries, Hyaxiom, a subsidiary of Doosan Corporation, and a Norwegian classification society DNV, one of the world's three largest classification societies.
Doosan Fuel Cell CEO Jeff Hyungrak Jeong (and CEO of Hyaxiom), Doosan Fuel Cell COO Huseok Che, Shell SVP and Global Head of Shipping and Maritime, Karrie Trauth, KSOE Vice Chairman, Sam-Hyun Ka and Regional Manager Korea & Japan Maritime DNV, Vidar Dolonen joined the event.
Companies participating in the consortium plan to utilize 600kW solid oxide fuel cells (SOFC) as an auxiliary power unit (APU) for ship demonstration on actual trade routes so that optimizing maritime fuel cell system.
Under the contract, Doosan Fuel Cell is responsible for ▲supply of stacks, which are key components of SOFC, ▲supplying SOFC systems for marine applications and ▲supporting SOFC services for ships, while Hyaxiom is responsible for ▲SOFC system development and ▲APU design and supply.
Shell is in charge of ▲ordering and managing the demonstration ship, ▲operating the ship and ▲overall management of the SOFC maritime demonstration project. Korea Shipbuilding & Offshore Engineering is in charge of ▲manufacturing the vessel, ▲installing the marine SOFC and ▲modifying and integrating the maritime system. DNV plans to approve vessel drawings and perform facility inspections and submit a classification certificate.
Doosan Fuel Cell aims to complete the development and delivery of the marine SOFC system by 2024 and start demonstration for one year from 2025.
Emission reduction is not easy in shipbuilding. Therefore, the shipping industry is making various attempts to replace internal combustion engines. Low temperature SOFC, currently being developed by Doosan Fuel Cell, has a benefit for environment, efficiency, up to 65%, as well as noise and vibration reduction in addition to maintenance cost cuts. Furthermore, if ammonia and hydrogen are able to fuel marine SOFCs in the future, it will enhance profitability by replacing existing marine engines as a pollution-free power source.
"We expect the consortium project to significantly reduce the carbon emission generated during ship operations," said Carrie Trauth, SVP and Global Head of Shipping and Maritime at Shell. "We are happy to work with leading shipping companies working to decarbonize the ocean."
"Solid oxide fuel cells are one of the promising solutions for achieving net zero in maritime," says Vidar Dolonen, Regional Manager Korea & Japan Maritime of DNV. "I'm excited to contribute DNV's expertise to this important project with leading companies."
"The shipbuilding and shipping industries are rapidly innovating under the two pillars of eco-friendly and digital," said Sam-Hyun Ka, Vice Chairman of KSOE. "We expect this fuel cell ship demonstration to preoccupy next-generation eco-friendly ship technologies and accelerate marine decarbonization."
"Equipped with higher power efficiency and longer life than existing products, our low temperature SOFC will not only improve the efficiency of vessel operation but also accelerate net zero in maritime," says CEO of Doosan Fuel Cell. "We will continue to cooperate closely with consortium members and complete the early demonstration so that we can lead the maritime SOFC business."
The International Maritime Organization (IMO) announced in 2018 reducing greenhouse gas emissions by 50% compared to 2008 by 2050. Accordingly, the marine fuel cell, as a future eco-friendly energy source, is expected to expand its presence significantly around 2030 when the IMO Stage 4 (reducing greenhouse gas emissions by 40% compared to 2008), which is currently under discussion, is implemented.