Doosan Fuel Cell and KHNP Sign an MOA for 'Building PAFC Operation and Maintenance Capabilities and Designing Business Development'
- Roadmap for hydrogen fuel cell operation and maintenance technical education and nurturing professional personnel
- Development of LTPM, a new business model
2022-10-06
Doosan Fuel Cell signed a memorandum of agreement (MOA) with Korea Hydro & Nuclear Power (KHNP) at Doosan Tower in Dongdaemun, Seoul on October 6th in order to 'enhance PAFC operation and maintenance capabilities and business development'. Key stakeholders, including Doosan Fuel Cell CEO Hyungrak Jeong and KHNP President Jooho Hwang, attended the event.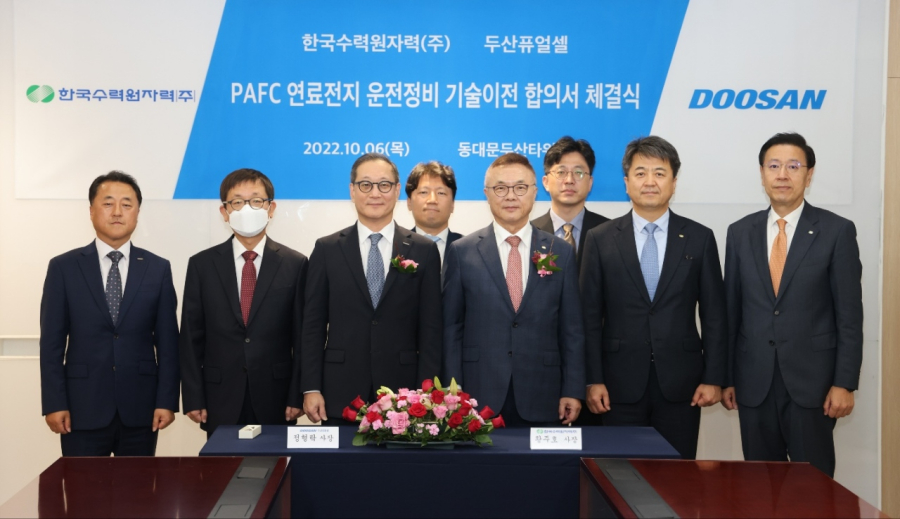 Doosan Fuel Cell and KHNP agreed to develop a detailed plan for the MOA signed in January, and to run the roadmap for 'Hydrogen fuel cell operation and maintenance technical training' until 2027 for KHNP's SPC and its own projects using PAFC.
Under the roadmap, the two companies decided to nurture experts through education, training and OJT in each field for 6 to 12 months. Then, Doosan Fuel Cell and KHNP will be responsible for a long term maintenance(LTSA) of
19.8MW-class Pohang fuel cell power plant together built by KHNP while Doosan will be in charge of technical transfer.
In the course of collaboration with KHNP, Doosan Fuel Cell also developed a new service model which only provided main machine components and technical support (Long Term Parts Management, LTPM). LTPM is expected to
improve profitability because it provides services where major parts and technical support are offered unlike long-term service agreement that must give services for the entire operation of hydrogen fuel cells.
"We will remain committed to the new business model where Doosan Fuel Cell and its customers thrive together," says Doosan Fuel Cell CEO.
Meanwhile, Doosan Fuel Cell is currently installing and operating 549.58MW (1,250 units) of hydrogen fuel cells in Korea. In addition to its PAFC stationary fuel cells, Doosan is diversifying its business landscape, such as ▲development of low-temperature SOFC and SOFC factory construction, ▲development of carbon capture, utilization and storage(CCUS) technology, ▲demonstration of Trigen capable of producing hydrogen, electricity and heat simultaneously and promotion of hydrogen and ▲EV and FCEV business.