Minister of Science and ICT Jongho Lee visits Doosan Fuel Cell Iksan Factory
- He encourage field workers and listened to their voice. On behalf of the government, he expressed its will to support the hydrogen industry
- He held an industry-university-research conference to discuss future strategies for hydrogen technology
2022-10-18
On October 18th, the Minister of Science and ICT (hereinafter referred to as the Minister) visited Doosan Fuel Cell Iksan factory, a leading company in the domestic hydrogen industry, to encourage field workers and discussed the 'future strategy (draft) for hydrogen technology' currently being established.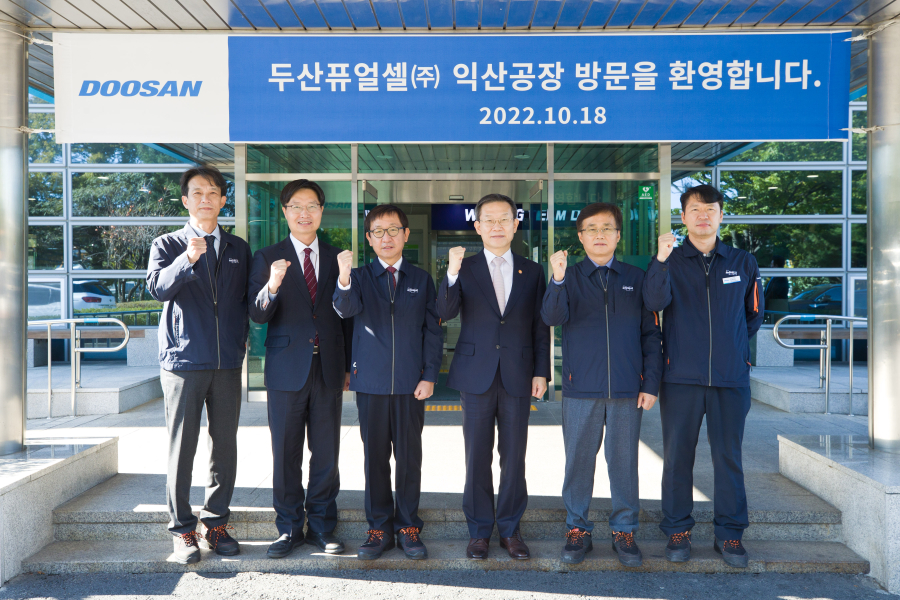 The 'Hydrogen Technology Future Strategy ' is a policy that contains core technical goals required from hydrogen production, storage, transportation and to utilization, in order to reduce national greenhouse gas emissions and transform into a hydrogen society. The main strategies of this policy are ▲Building a hydrogen supply chain with domestic technology, ▲Leading the hydrogen mobility market with technology, ▲Transitioning to a clean hydrogen society through technological innovation and ▲Securing leadership in the global hydrogen market with technology.
In the afternoon, the introduction of Doosan Fuel Cell, its products and processes and the technical roadmap for hydrogen fuel cell technology development were presented to the Minister in the auditorium on the first floor of the office building of the factory, and then he moved to the production facilities to observe the entire production process.
Next, an industry-academic conference for the hydrogen industry was held to share thoughts and inputs on the future strategy for hydrogen technology. The meeting was attended by the Minister Doosan Fuel Cell COO, Iljin Hysolus CEO Hong-sang Ahn Kumyang Innovation CEO Seokyoung Jang, and officials from Chonbuk National University, KEPCO, and Korea Institute of Science and Technology (KIST).
"Hydrogen technology is a must so that we can achieve the 40% reduction in national greenhouse gas emissions by 2030 and carbon neutrality in 2050, which Korea has declared to the international community," says the Minister. "We plan to actively support R&D at the government level."
"We will remain committed to cooperation with industry, academia, research institutes and our government for developing hydrogen technologies and building a domestic hydrogen infrastructure," says COO. "This infrastructure will benefit the hydrogen industry, as hydrogen is our future energy source."