Doosan Fuel Cell launches 'Green Walking Challenge', a Green Social Contribution Campaign
- Achieved Total 484kg carbon emissions were reduced by a total of 31 million steps with Doosan Fuel Cell employees, their families, and suppliers
- 10 million won donated to the Forest for Life to create forest
2022-10-21
Doosan Fuel Cell announced on the 21st of October that it had conducted a green social contribution campaign, named "Green Walking Challenge" and donated 10 million won to the civic group "Forest for Life." This fund will be used to create forests in aging parks, social welfare facilities, and areas damaged by forest fires.
This campaign was designed not only to improve personal health, but also to practice carbon reduction in daily lives and to contribute to environmental protection by walking for short distances without using public transportation or vehicles.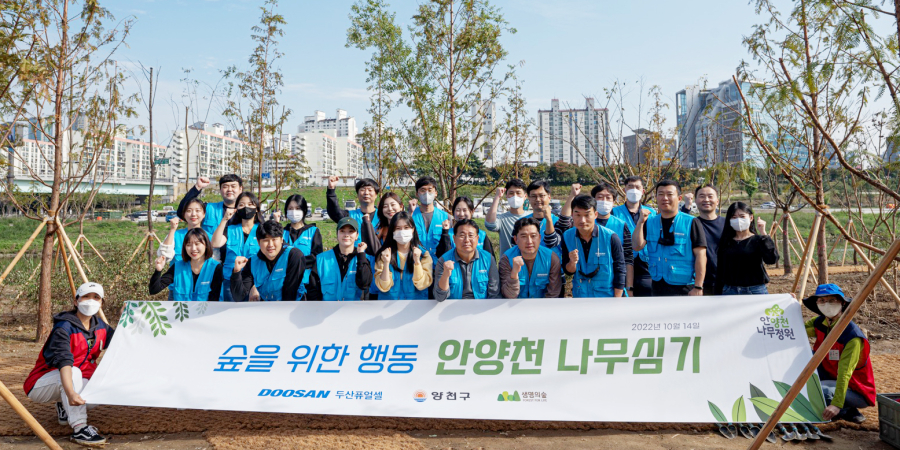 About 320 Doosan Fuel Cell employers and employees, their families, and employees of partner companies participated in the campaign for two weeks from October 7th and recorded 31 million steps, three times more than the target of 10 million steps. This campaign allowed Doosan Fuel Cell to cut carbon emissions of 484 kg, which is equivalent to the emissions that 30-year-old 73 pine trees absorb in one year.
"As a leading eco-friendly hydrogen fuel cell company, all employers and employees are doing our best to practice carbon neutral practices at work." Says an official from Doosan Fuel Cell.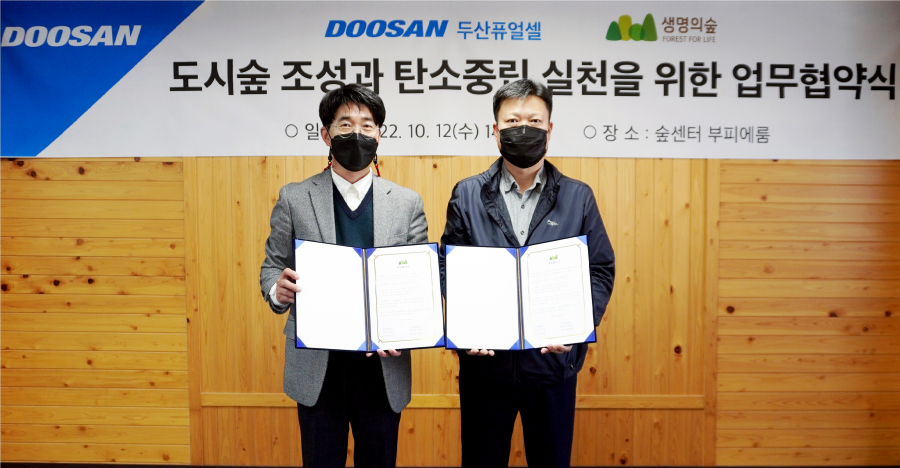 Meanwhile, on the 12thof October, Doosan Fuel Cell signed an MOU with the Forest of Life to create urban forest and implement practices for Carbon Neutrality. Under the agreement Doosan Fuel Cell planted 360 trees on October 14th. Participated and planted trees in Anyang stream, approximately 20 Doosan Fuel Cell employers and employees felt the value of our forest and strengthened their commitment to carbon neutrality in their lives.