Doosan Fuel Cell, Joins UAE-Korea Business Roundtable on Hydrogen Partnership
- Doosan Fuel Cell introduced hydrogen value chain technologies from hydrogen fuel cells, hydrogen mobility and liquid ammonia, etc.
- Doosan anticipates cooperation with UAE companies thereby creating a synergy effect in hydrogen business

2022-01-18
Doosan Fuel Cell joined 'UAE-Korea Business Roundtable on Hydrogen Partnership' held in Dubai on January 16.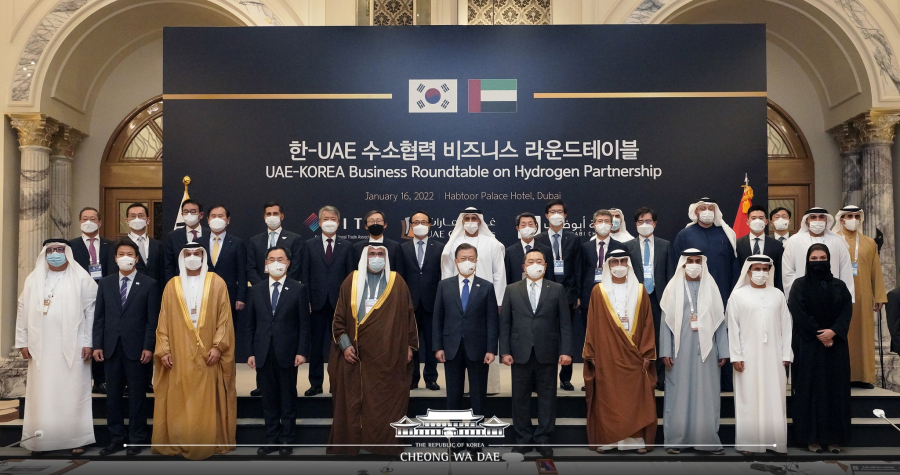 'UAE-KOREA Business Roundtable on Hydrogen Partnership' is co-hosted by Korea International Trade Association and Federation of UAE Chambers of Commerce & Industry, aiming to boost UAE-Korea investment and cooperation since the UAE has great potential in producing green and blue hydrogen whereas Korea has great capabilities of hydrogen applications such as hydrogen fuel cells, hydrogen fueled vehicles.
Both nations discussed ways to foster Korean companies' involvement in UAE hydrogen projects and financial support for hydrogen investment and build hydrogen cooperation channels.

In corporate presentation and discussions, Doosan Fuel Cell introduced hydrogen mobility technologies such as stationary fuel cells, FCEVs, maritime SOFCs as well as hydrogen technologies the entire Doosan Group has, such as ▲building fuel cells(Doosan corporate) ▲hydrogen turbines, clean ammonia, liquid hydrogen(Doosan Heavy Industries & Construction) ▲Hydrogen drones(Doosan Mobility Innovation) and ▲US stationary fuel cells, electrolyzers(Doosan Fuel Cell America).
"Armed with the technology prowess that has been proved in the global market where we supplied the largest hydrogen fuel cells and developed the first hydrogen fuel cell drones in the world, Doosan operates across hydrogen industry from production, logistics to hydrogen applications,"Says Jeff (Hyungrak) Chung, President and CEO of Doosan Fuel Cell. "Doosan is able to generate a special kind of synergy by cooperating with UAE companies."
In the meantime, Doosan has been involved in joint research on hydrogen city between Korea and UAE. Under the project Doosan is developing electrolysis technologies for green hydrogen generation and plans to demonstrate in 2024 in the UAE.