Doosan Fuel Cell management and union agree on strike-free wage deal and vow efforts to have cooperative relationship in 2022
- Management and union decide to focus on business growth, capabilities and job security
2022-07-18
On July 27, Doosan Fuel Cell agreed on strike-free wage deal and having cooperative labor-management relations.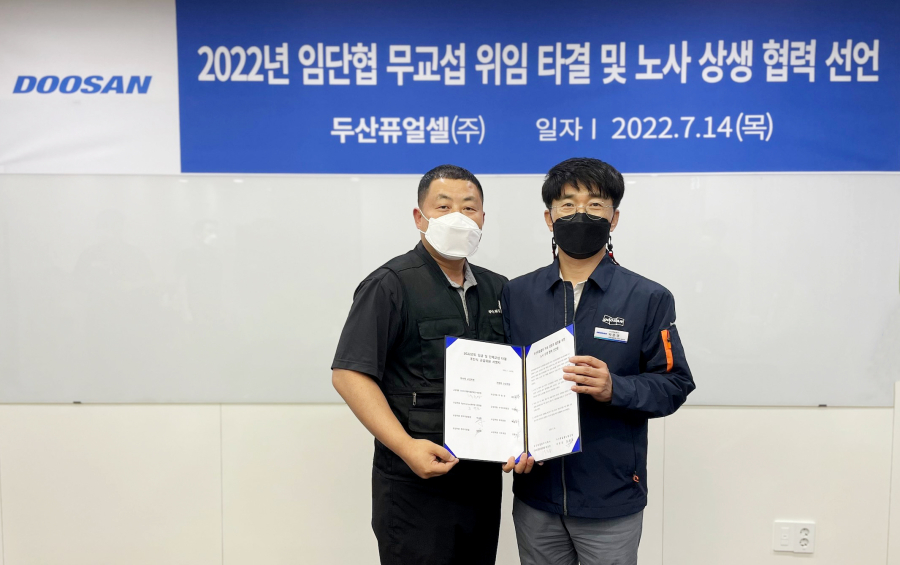 Doosan Fuel Cell management and union reached this agreement after achieving consensus on the needs for steady growth, business competency and job security.

In the meantime, they declared to have cooperative labor management relationship for ▲production stabilization from PAFC Iksan factory ramp up, ▲SOFC Gunsan factory build and ▲swift response to administrative energy policy changes.
"Mutual trust, respect and communication for labor-management cooperation is a key to our future," says Junyoung Park, Senior Vice President and head of negotiation team of Doosan Fuel Cell. "We will remain committed to improving employees' quality of life and job security."
Meanwhile, Doosan Fuel Cell will complete PAFC Iksan plant ramp up in the second half of the year and construct 50MW SOFC plant the Gunsan Saemangeum Industrial Complex by 2023 for mass production